Have you ever considered using police drones in your fiction?
If you haven't, now may a good time to think about it and to help you, I've put together a short piece about them, their usage and a few thoughts about how they could be incorporated or not into your stories.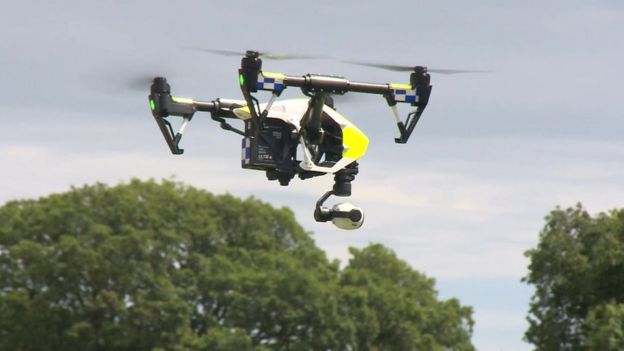 Dorset, Devon and Cornwall Police formed the first dedicated "Drone Team" or unit in November 2015 partly in response to having their budgets slashed and partly to provide much needed cover that the National Police Air Service (NPAS) helicopter couldn't provide.
Today, more than two-thirds of UK police forces either have their own or access to another force's "Unmanned Aerial Vehicles (UAV) or drones. Generally, the larger the force, the more UAVs and trained operators they have. West Yorkshire Police, the fourth largest police force in England has 11 drones and 60 Civil Aviation Authority (CAA) accredited and qualified remote pilots or operators.
The West Midland Police paid £28,000 for their three drones and seven officers to be trained in their use out of funds obtained via the Proceeds of Crimes Act.
The drones come in various sizes with varying capabilities. They are battery operated, take off and land vertically, much like a helicopter does. Depending on their size, they can stay airborne for around 20-45 minutes, some in all weathers. The batteries are charged either in a building or from a suitably equipped vehicle. They can operate up to 400 feet (120m) high and fly up to 40 miles per hour. CAA legislation doesn't allow them to be flown any higher so as to avoid collisions with aircraft that do not fly below 500 feet. The drones can be fitted with High Definition (HD) cameras, HD video recorders and/or thermal imaging cameras and are capable of providing a live-feed to commanding officers and operators.
CAA regulations stipulate that the drones must not fly more than 500 metres from the pilot and remain in their view at all times unless a second pilot is used.
Police drones are not used for general surveillance of the public (in the way that town centre CCTV cameras are deployed). They will be used in crime hot-spots to target criminals, areas where large events (football matches, protests) take place, serious incidents such as major crime incidents, road traffic collisions or industrial accidents occur and to search areas difficult for officers to search by foot.
Greater Manchester Police used their drones to crack down on crime on the city's transportation network, whilst Norfolk Police used theirs to find a missing 75 year-old man wandering lost around dense reed beds. Dorset Police have used theirs to help tackle wildlife crime. Kent Police produce a monthly list of when a drone has been used and why.
Police drones will not replace the need for NPAS helicopters but will free them up to be used for longer on more serious and complex operations such as pursuits and fast moving surveillance operations or where there is the need for a distance of more than 500 feet to be maintained between a drone and its operator.
Scientists based at Cambridge University and in India are working on a project to develop artificial intelligence software that can automatically and instantaneously spot violent or suspicious behaviour in crowds, from the air. Using shop bought drones fitted with innovative software, they have been able to spot when a punch is thrown, a kick launched and even a gun pulled out, with a very high degree of accuracy, within a small crowd. Maybe in the future, UK police forces, which are amongst the World's most enthusiastic adopters of drone technology, may deploy such UAVs as these in development, to keep an eye, 24 hours a day on our streets, both to keep us safe and to alert traditional resources when something is afoot or amiss.
Watch a video about drones, produced by Devon and Cornwall Police at https://youtu.be/O635iNjfI7M
You can follow the use of and issues around UAVs by following on Twitter @DronesWMP, @PoliceDrones and @lincsCOPter
Also keep your eyes and ears open for forces such as Devon and Cornwall Police offering courses to members of the public to help them make sensible and legal choices when flying their drones.
So, how are you going to fit police drones into your stories?
Don't forget to get your very own copy of the following guides, if you haven't already, by clicking on the images below and watch out for the release of the forthcoming Writer's Guide to UK Police Custody and Cell Procedures.